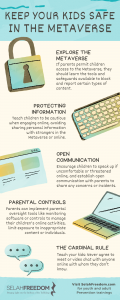 The Metaverse is a new source to predators who are child abusers
Child Abuse Awareness Month: Top Ten 'red flags' of social media and the metaverse:
SARASOTA, FL, UNITED STATES, April 4, 2023/EINPresswire.com/ — The protection and wellbeing of our children is of paramount importance to everyone, especially parents. Let us continue to raise awareness in America in April as it's Child Abuse Prevention Month, and statistics tell us that child abuse is a horrific experience with profound, lasting effects. Here's a look at the scope of the problem (source: National Children's Alliance, 2023 data):
• More than 600,000 children are abused in the U.S each year. An estimated 618,000 children (unique incidents) were victims of abuse and neglect in 2020, the most recent year for which there is national data. While any number of children being abused is intolerable, this number is significantly lower than it was for any of the past 10 years, indicating that children stuck at home during the early days of the pandemic may not have gotten the abuse intervention services they needed. Furthermore, this data may be incomplete, and the actual number of children abused is likely underreported.
• Child welfare authorities ensure the safety of more than 7 million kids. Of those, around 3.9 million children received an investigation or alternative response from child protective services agencies. An estimated 2 million children received prevention services.
• How does child abuse impacts kids? The youngest children were most vulnerable. Children in the first year of their life are 15% of all victims. 1 in 40 infants under 1 year are victimized by abuse every year.
• Breaking down child abuse by demographics, girls had a victimization rate of 8.9, higher than boys at 7.9.4 American Indian or Alaska Native children have the highest rate of victimization at 15.5 while African American children have the second highest rate at 13.2.1.
• Child abuse is deadly. In 2020, an estimated 1,750 children died from abuse and neglect in the United States. Boys have a higher child fatality rate at 2.99

per 100,000 compared to girls at 2.05.4 African American child fatalities (5.9 per 100,000) is 3.1 times greater than that of White children (1.9), and 3.6 times greater than Hispanic children (1.65).
• Nationally, neglect is the most common form of abuse. Three-fourths (More than 75%) of victims were neglected, 16% were physically abused, and 9% were sexually abused, and 0.2% are sex trafficked.
• The use of social media by youth and the rise of the Metaverse (virtual reality technology) translates into an online environment that could be ripe for crime, child abuse, and sex trafficking recruitment Source: Fortune Magazine
As one of the nation's largest and successful anti-sex trafficking organizations, Selah Freedom, is committed to helping to eradicate sex trafficking and raising awareness of the fact that they have found 100% of their survivors endured a traumatic event in childhood.
Where and how does child abuse occur? The National Children's Alliance 2023 report says most child victims are abused by a parent. In 2020, a reported 483,285 perpetrators abused or neglected a child. In substantiated child abuse cases, 77% of children were victimized by a parent.
The National Center on Safe Supportive Learning Environments, funded by the U.S. The Department of Education's Office of Safe and Supportive Schools, reports that although there is no standard profile of a child trafficking victim, several risk factors make certain children more susceptible. Researchers have found that sex traffickers often target children and youth with a history of maltreatment, sexual abuse, low self-esteem, and minimal social support.
No two cases are precisely alike, and parents, caregivers and educators should work hard to overcome any stereotypes they may harbor about the appearance of victims or traffickers.
Selah Freedom's Top Ten 'red flags' of social media and the metaverse:
· "Protection through Proactivity." If parents permit children access to the Metaverse, they should learn the tools and safeguards, such as "boundary features" available to block and report certain types of content.
· Parents need to explore the Metaverse themselves, find out what their kids do there, play games with them, point out any red flags about someone else's behavior.
· Parents should understand the importance of limiting screen time and encouraging other hobbies and in-person interactions.
· Parental Supervision dialogue. Speak to your kids and ask if any of their dialogues include asking them if they have parental supervision at home or when they use social media.
· Parents and guardians should keep up with ongoing updates to platform policies to maintain pace with the increasing interest in using the Metaverse in various contexts, both personally and professionally.
· Teach your children it's important to be cautious when engaging with others in the Metaverse and online. They should avoid sharing personal information, such as their real name, address, or phone number, with anyone they don't know in person.
· Children should be encouraged to speak up if they feel uncomfortable or threatened in any online situation, and parents should establish open communication to share any concerns or incidents that may have occurred.
· Parents should consider implementing parental oversight tools, such as monitoring software or parental controls, to help manage their children's online activities and limit exposure to inappropriate content or individuals.
· Cardinal Rule to teach your kids: Never agree to meet or video chat with anyone online with whom you don't know.
· According to recent data, the top five apps flagged for "severe sexual content," beginning with the most severe, are Kik, Tumblr, Twitter, Discord, and Instagram. Parents need to monitor these carefully.
See our Infographic attached about the use of social media
Martone
01/2013
+1 917-929-0527
email us here
Visit us on social media:
Facebook
Twitter
LinkedIn


Originally published at https://www.einpresswire.com/article/625938395/child-abuse-and-sex-trafficking-staggering-statistics-parents-need-to-know